Regenerative Architecture:
A Pathway Beyond Sustainability
"Regenerative architecture is the practice of engaging the natural world as the medium for, and generator of the architecture. It responds to and utilizes the living and natural systems that exist on a site that become the "building blocks" of the architecture. Regenerative architecture has two focuses; it is an architecture that focuses on conservation and performance through a focused reduction on the environmental impacts of a building."  Jacob Littman   http://scholarworks.umass.edu/cgi/viewcontent.cgi?article=1389&context=theses
Sustainable and "Green" Architecture
Environmentally sound construction has as many names as it has definitions. Green housing practices encompass the use of nontoxic resources, energy efficiency, the use of recycled materials, and the usage of alternative energy including wind and solar power. Robert Berkebile, AIA, claims "It is design that improves the quality of life today without diminishing it for the next generation." (click to see more)
We at Philips Architecture have been at the forefront of incorporating  Sustainable Design, Environment-Friendly, and Eco Building practice and have become experts in implementing these resource friendly practices into our buildings. 
---
Structural insulated panels (SIPs)
The result is a building system that is extremely strong, energy efficient and cost effective. Building with SIPs will save you time, money and labor. (click to see more)
AAC Block is compatible with sustainable building practices since it requires fewer raw materials to produce and is completely non-toxic. Production of AAC Block is designed to minimize waste and maximize recycling of materials. (click to see more)
Building with ICF allows concrete homes and commercial buildings to be built stronger, more energy efficient, more comfortable and more environmentally friendly. ICF provide greater energy solutions for any structure. Ongoing laboratory and site testing has proven a home or commercial building.  (click to see more)
Timber Framing and "Post-and-Beam"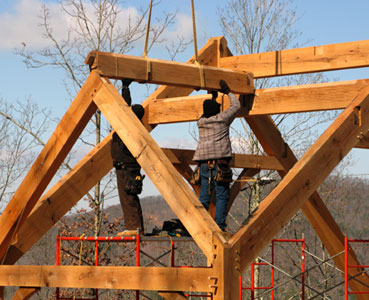 Once a handcrafted skill passed down, timber-frame construction has now been modernized with the help of modern industrial tools. These machines and mass-production techniques have assisted growth and made for more affordable frames and shorter lead-times for projects. (click to see more)
With the growing concerns about environmentally friendly (green) construction in the areas of health and resources as well as the increasing cost of wood, concrete and steel products and their respective environmental concerns, this new source of building material is becoming an increasingly important addition to the industry. (click to see more)
Additional Resources